Heat & cool your home the smart way with a WaterFurnace geothermal comfort system using the clean, free, renewable energy found just below the earth's surface. WaterFurnace units don't rely on expensive limited fossil fuels which negatively impact our environment. Thanks to energy efficiency ratings of over 500%, WaterFurnace systems save many homeowners up to 70% in heating and cooling costs while helping to protect the environment. With outstanding energy efficiency, cost effectiveness, and environmental responsibility, it's easy to see why a WaterFurnace geothermal system is "Smarter from the Ground Up".
Summer Cooling
As outdoor temperatures rise, a GHP collects the unwanted heat in your home and moves it to the cooler 55° earth. Meanwhile, ordinary heat pumps and air conditioners are forced to dump that heat outside. Unfortunately, hot summer air is already saturated with heat and is less willing to accept more. That makes ordinary cooling systems least efficient when you need them to be the most efficient.
Winter Heating
As outdoor temperatures fall, a GHP draws from an underground reservoir of heat, concentrates it, and moves it to your home. Meanwhile, an ordinary heat pump is forced to collect heat from frigid winter air, making it least efficient when you need it to be the most efficient. And unlike a furnace, our units don't create heat through combustion. They simply collect and move it.
Thermodyn is proud to be an approved dealer to sell and install WaterFurnace geothermal systems. For more product information please visit the WaterFurnace website.
All-In-One Geothermal Product Offering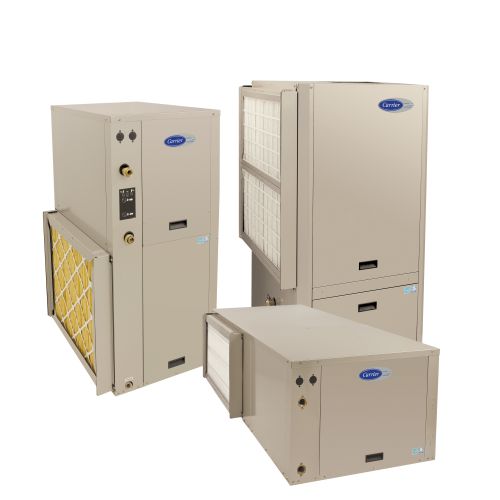 Infinity® Series Geothermal Heat Pump
View Brochure
Model Family: GC
Closed Loop Cooling Efficiency: Up to 30.0 EER
Closed Loop Heating Efficiency: Up to 4.2 COP
Energy Star Rated: ENERGY STAR®
Refrigerant Type: Puron®
Sound Level: Quiet operation
Blower Motor: Variable-speed blower
Compressor: Two-stage compressor
Factory Warranty Parts: 10 year parts limited warranty 5 year labor limited warranty
Factory Warranty Compressor: 10 year parts limited warranty 5 year labor limited warranty
Manufacturer's Stated Benefits:
Open loop cooling: Up to 37.0 EER
Open loop heating Up to 5.2 COP
Summer dehumidification is compressor and blower motor enhanced
Excellent cold weather performance
Sound enhancements: Fully insulated cabinet, compressor blanket and double-isolation compressor mounting system
Microprocessor control board
Recommended control: Infinity control
Optimal humidity and temperature control when managed by the Inifinty Touch control
Large operating temperature range
Corrosion-resistant air coil for long life
Stainless steel drain pan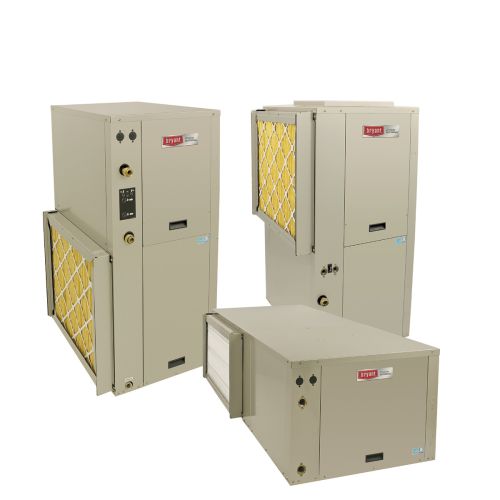 Performance™ Series Geothermal Heat Pump
View Brochure
Model Family: GP
Closed Loop Cooling Efficiency: Up to 24.5 EER
Closed Loop Heating Efficiency: Up to 4.0 COP
Energy Star Rated: ENERGY STAR ®
Refrigerant Type: Puron®
Sound Level: Ultra quiet fan sound levels
Blower Motor: Variable-speed blower motor
Compressor: Two-stage scroll compressor
Factory Warranty Parts: 10-year parts and labor limited warranty upon registration
Factory Warranty Compressor: 10-year parts and labor limited warranty upon registration
Manufacturer's Stated Benefits:
Summer dehumidification is compressor and blower motor enhanced
Excellent cold weather performance
Sound enhancements: Fully insulated cabinet, compressor blanket and double-isolation compressor mounting system
Comfort Alert™ compressor diagnostics
Microprocessor control board
Recommended control: Performance™ Edge® relative humidity thermostat
Heavy-duty, galvanized steel cabinet
Baked on urethane base coat and polyester top coat paint in taupe metallic
Large operating temperature range
Corrosion-resistant air coil for long life
Stainless steel drain pan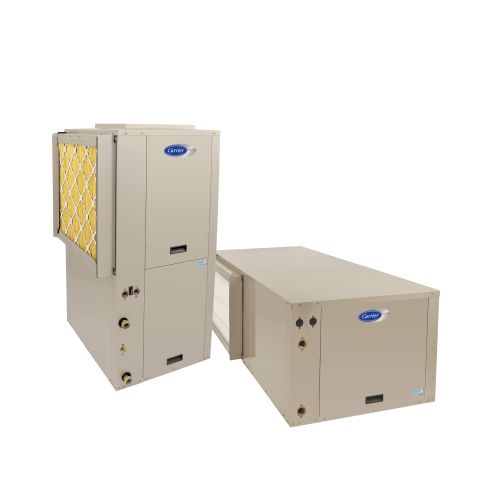 Comfort™ Series Geothermal Heat Pump
View Brochure
Model Family: GB
Closed Loop Cooling Efficiency: Up to 21.7 EER
Closed Loop Heating Efficiency: Up to 4.3 COP
Energy Star Rated: ENERGY STAR ®
Refrigerant Type: Puron®
Sound Level: Quiet operation
Blower Motor: Multi-speed blower
Compressor: Single-stage scroll compressor
Factory Warranty Parts: 10-year all parts and 5-year labor limited warranty upon registration
Factory Warranty Compressor: 10-year all parts and 5-year labor limited warranty upon registration
Manufacturer's Stated Benefits:
Excellent dehumidification and temperature control
Insulated cabinet for quiet operation
Large operating temperature range
Corrosion-resistant air coil for long life
Stainless steel drain pan
Microprocessor control for precision operation